The Balloon Buddy
THE ELECTRIC AIR INFLATOR FOR LATEX BALLOONS
The Balloon Buddy is a compact and incredibly powerful electric air inflator that can inflate a latex balloon in under two seconds.
So save your breath for the party and let this little workhorse do all of your inflating instead!
Available at major retailers.
---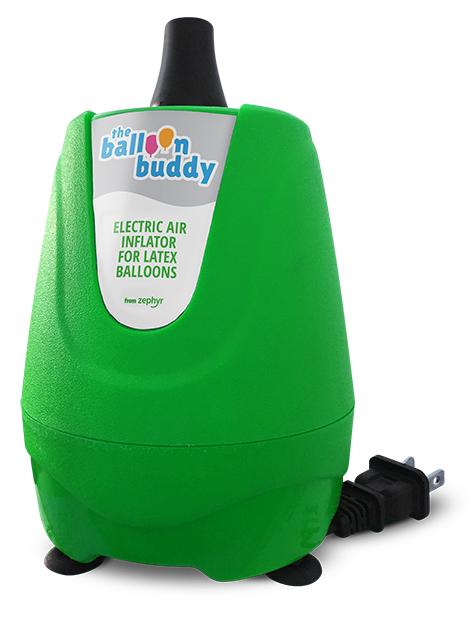 Fast, powerful, & durable
The Balloon Buddy is designed to make life easier on your lungs. It's built for speed and duration, and can inflate latex balloons in seconds, making it the perfect companion for party preparation, events, grand openings, and other balloon decoration.
THE BALLOON BUDDY FEATURES:
• Small, compact body for super portability
• Super-suction feet ensure stability on flat surfaces
• Powerful electric motor requires no batteries or maintenance
• Push down valve inflates latex balloons in seconds
• Tip extension included for small latex balloons
---

Check out The Balloon Buddy's full 60-second TV commercial on As Seen On TV, featuring original Shark Tank shark, Kevin Harrington! WATCH NOW.
---
Incredibly easy to use
HOW TO USE THE BALLOON BUDDY:
1. Place the latex balloon stem fully over the push valve. If you're using a smaller balloon (5″-9″), make sure to screw on the included extension tip.
2. Holding the stem of the balloon tight around the valve, push the valve down begin inflation.
3. Once your balloon is fully inflated, just remove the latex balloon from the valve and tie it off!
4. Repeat! Nobody inflates just one balloon!
The Balloon Buddy inflates with air. Air-filled balloons do not float. Never look into or point The Balloon Buddy at the eyes or face of yourself or another person. Never obstruct the inflation port or overheating or damage may occur. Do not use The Balloon Buddy continuously for more than two hours at a time. Do not attempt to use The Balloon Buddy to fill foil balloons. The Balloon Buddy is not a toy. Keep out of the reach of children. Do not store or use The Balloon Buddy in wet conditions. No batteries required!